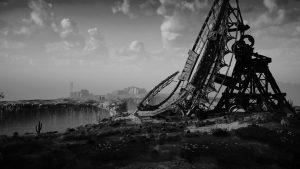 HORIZON ZERO
Our first event at HackûH is a joint adventure with awarded photographer Sébastien Van Malleghem, social media wizard François de Montremy and algorithm raver Dagobert Sondervan. A cross-feed of audiovisual animation and live coding inspired by a post-apocalyptic video game. Now dare to call us fake media.
The video game industry isn't playing around. Last year its global revenue exceeded 100 billion dollars. Around 50 million dollars were made in Belgium, where almost half of the population calls itself a player, the majority between the ages of 25 and 45.
Recently Playstation and Guerrilla Game released HZD (Horizon Zero Dawn), a post-apocalyptic game that sees the human race nearly wiped out and pushed back into a prehistoric age, hunted down by machines. The player-survivor can develop himself in a wilderniss full of challenges.
Robot animals reflect the new technologies created by the American army's DARPA-institute (Defense Advanced Research Projects Agency) and Boston Dynamics.
The artistic direction brings you to places referring Yosemite National Park and the high mountains of Tibet and Tanzania, mixed with glimpses of war zones, cults and religions, and traces from local anthropology.
A quite precise camera mode enables participants to walk around
the scenes adjusting sharpness and measuring the light in order to photograph what he or she wants, in total freedom.
This isn't new. The industry is expecting to see more and more people get connected. Today video games can rely on bigger budgets than Hollywood movies. Questioning our relation to reality and virtuality, they are the chosen platform to present visions of the future.